The
Main Device
The X-Rayl Solar Pointer S3 is a solar powered, patented tracking device that was specifically developed for use in areas lacking external power supplies and harsh environments.
With its integrated global LTE- and GNSS-modules the Pointer S3 can collect and transmit positional and sensor data worldwide. Thanks to the sophisticated power saving concept, the large solar panel and the integrated energy storage the Pointer S3 can operate self-sustained and maintenance-free even in areas where no ordinary power supply is available.
The Pointer S3 can be connected to wireless sensors via the integrated Bluetooth module (ITSS IF2 BLE) which allows for easy extension of the device capabilities through a multitude of sensors. All data gathered by the Pointer S3 is encrypted and transmitted to the high-availability back-end, where it can be monitored and analysed through the X-Rayl DOT-Link platform or sent to external systems through a multitude of interfaces.
Since the Pointer S3 is certified according to the highest ATEX and IECEx standards available on the market today, it is possible to use the device even under sensitive conditions such as the transport of chemicals.
The Pointer S3 is available in two designs Cast (dark colour) and Milled (silver colour). The specifications for both designs are identical except for weight and dimensions which vary insignificantly.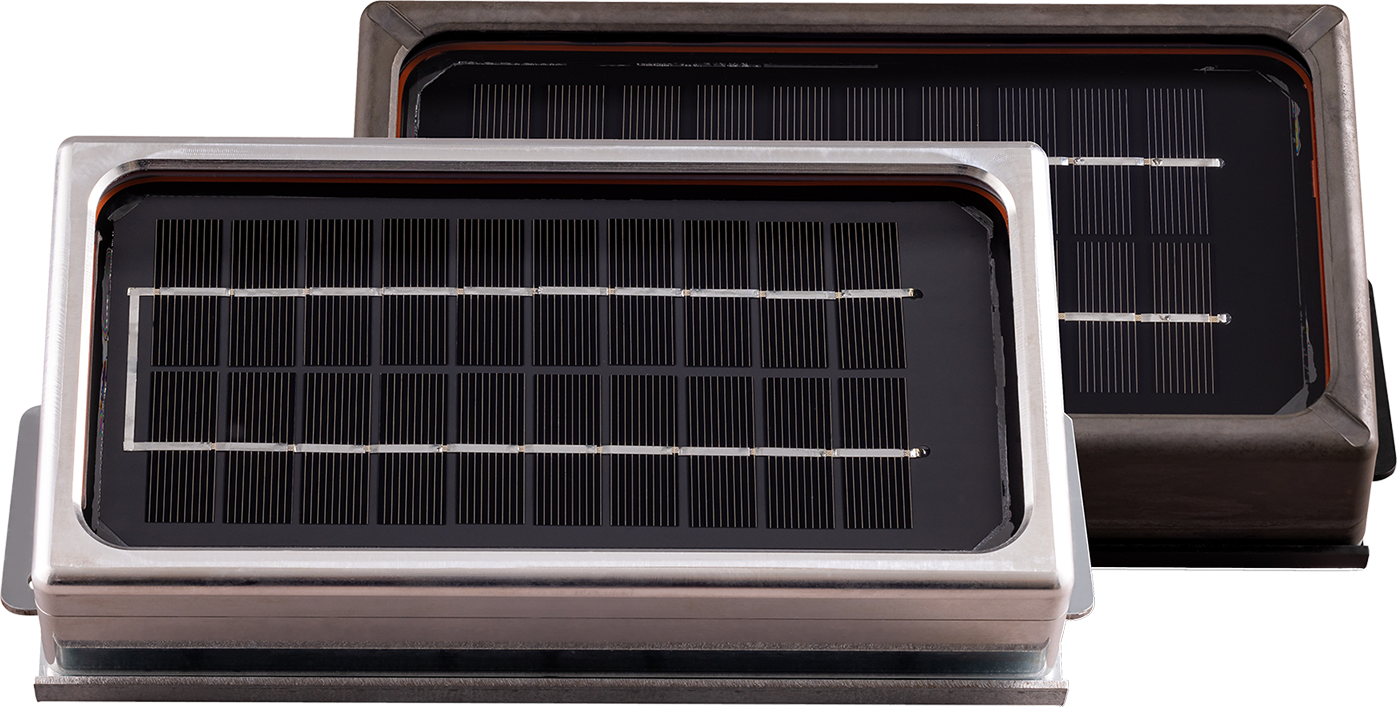 Easy to mount
The X-Rayl Solar Pointer S3 can be attached to assets via a multitude of mounting plate and adaptors. Also tailor-made mounting plates can be offered.
Maintenance free
The X-Rayl Solar Pointer S3 uses no batteries. Therefore, it can be used until its technology gets obsolete or longer.
Highest certifications
The X-Rayl Solar Pointer S3 is certified according to ATEX, UKEX and IECEx, conform to the standards:
EN IEC 60079-0:2018 / EN 60079-11:2012
Category: II 2G Ex ib IIC T6 Gb / II 2D Ex ib IIIC T85°C Db /
-40°C ≤ Ta ≤ +60°C.
Large solar panel
The X-Rayl Solar Pointer S3 receives its energy from a large glass made mono crystalline long life solar panel.
Integrated shock detection up to 200g
The X-Rayl Solar Pointer S3 has many integrated sensors for detection of light, shocks, vibrations, temperature. Its accelerometers can detect accelerations from few mg to 200g with very high sampling rates.
Mileage calculation
The X-Rayl Solar Pointer S3 include mileage calculation. This algorithm has been verified and allows the mileage to be recorded with an accuracy of over 98%.
Ready for Sub 1GHz Technology
The X-Rayl Solar Pointer S3 is equipped with sub 1Ghz technology which provides more range than 2.4Ghz. sub 1Ghz wireless transmission provides 1.5 - 2 times the distance coverage of the 2.4Ghz spectrum.
ITSS IF2 BLE / Bluetooth
The X-Rayl Solar Pointer S3 offers Bluetooth 5 Low Energy (BLE) connectivity for wireless data acquisition of optional sensors and for tablet/smartphone communication.
Future-proof
All DOT devices have the option of over-the-air firmware updates, which ensures that our customers benefit from new features, improved reliability and maximum security without having to physically access the devices. The updates are of course encrypted, from a secure server of DOT Telematik und Systemtechnik GmbH.
---
Trusted by leading companies in the field